Crocheted squares are often called «granny squares». Probably because they often are used in blankets, where granny or somebody else, has worked a great amount of squares in a lot of different colours, and put it all together. It's a very smart solution for those who have too much left over of yarn. And most "crafting people" have.
It was not really the granny squares which were the inspiration for this vest, but some small hot mats to put on the coffee table. Still, to put something like that together in a larger piece will very soon bring ones thoughts to granny. That's why it's exciting to make something that's close, but still is very different, both in expression and shape.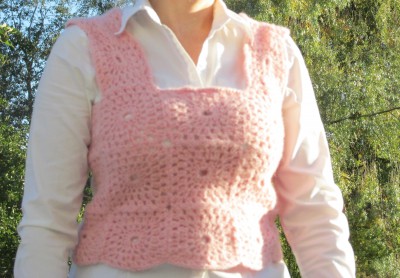 To see more designs from Aud B, visit the online shop at audb.no. And for more inspiration, stay tuned to this blog and check it out.